Hollywood Royalty, Award-winning star and a jack in her trade, Regina King is not only a veteran in acting but also an iconic style star. We shine the spotlight on a Queen who has mastered the art of her style and remains an inspiration and a worthy muse.
WHO IS REGINA KING?

Regina King is a seasoned American actress, producer and director. Known for her phenomenal roles in ABC's American Crime, Seven Seconds, If Beale Street Could Talk, amongst others, it was no surprise when she won various global awards for them. For the 49 year old star, her style is simple, refined and effortless. Whatever theme she's going for, she keeps it classy and elegant.
RED CARPET ROYALTY

Regina is one of the most sought after celebrities on the red carpet and she delivers every time. From her elegant pieces to stunning silhouettes and designs, this black queen knows how to make a memorable statement.

At the just concluded Oscars this year, King donned on a beautiful peach colored gown by Atelier Versace. It was such a regal statement style especially with the fabulous train. We are sure to remember this look for a long time.

Also at the 2019 Oscars, King channeled her inner angel in a stunning white ensemble by Oscar de la Renta. Featuring a super high slit and ruched highlights, the star paired her dress with white gold and diamond bracelet and pear-shaped diamond drop earrings by Chopard.

The actress also took home an Oscar for the Best Supporting Actress for "If Beale Street Could Talk".
Another outstanding red carpet look for the Hollywood star was at the 2019 Golden Globe Awards. Regina shimmered in a custom Alberta Ferretti Limited Edition. Styled with Messina jewelry, she was an epic showstopper.

The 49 year old star looked pretty in pink at the 2019 Tony Awards. Styled in a silk satin draped gown by Prada, it was a super sophisticated look.

The Award-winning star was a daring diva in a dazzling couture number by Ashi Studio. Her dress was not the only thing that took the spotlight. She wore her hair in a high ponytail and accesorized with a beaded hairpiece. King completed her outfit with Niwaka jewelry, Umeutage earrings, a set of Kuon rings, Suiren ring and gorgeous heels by Stuart Weitzman.
PETITE CHARM

Apart from her extravagant and show stopping looks on the red carpet, Regina is also quite the charmer in pretty fashionable pieces. Check out this sassy printed piece she wore in the picture below. Being a super chic number, the belt feature also accentuated her waist. She complemented her outfit with gorgeous heels and stylish braids.

A romper is always a charming piece any day anytime. The actress pulled off this look effortlessly and added a red lip and hoops to spice things up.

King stunned in a pretty floral print dress in alter style. With full hair, crystal earrings and black heels, she was indeed a beauty to behold. Yes to Flower Power!

At the Film Independent Spirit Awards 2019, Regina showed up looking like a sweet 16 in a short Valentino Spring 2019 dress. She added a hint of sparkle with a set of golden strapped heels.
PANTSUIT PRIDE

Pulling off the Pantsuit trend is one of Regina's super powers. She does it in such an effortless and chic manner. With various structures and silhouettes, this queen wears pieces that flatter her figure in perfect fashion. This trend also continues to dominate the runways and on the streets too. Take a cue from Regina and rock your timeless pantsuit with pride this spring season. Apart from the black colored suits and other neutral tones, explore the various bold colored pieces and be the center of attention.
Regina's got the wow factor in this pink suit by Oscar de la Renta. She increased sass levels by adding a pair of silver heels, choker, sparkly studs and rings including a stylish ponytail.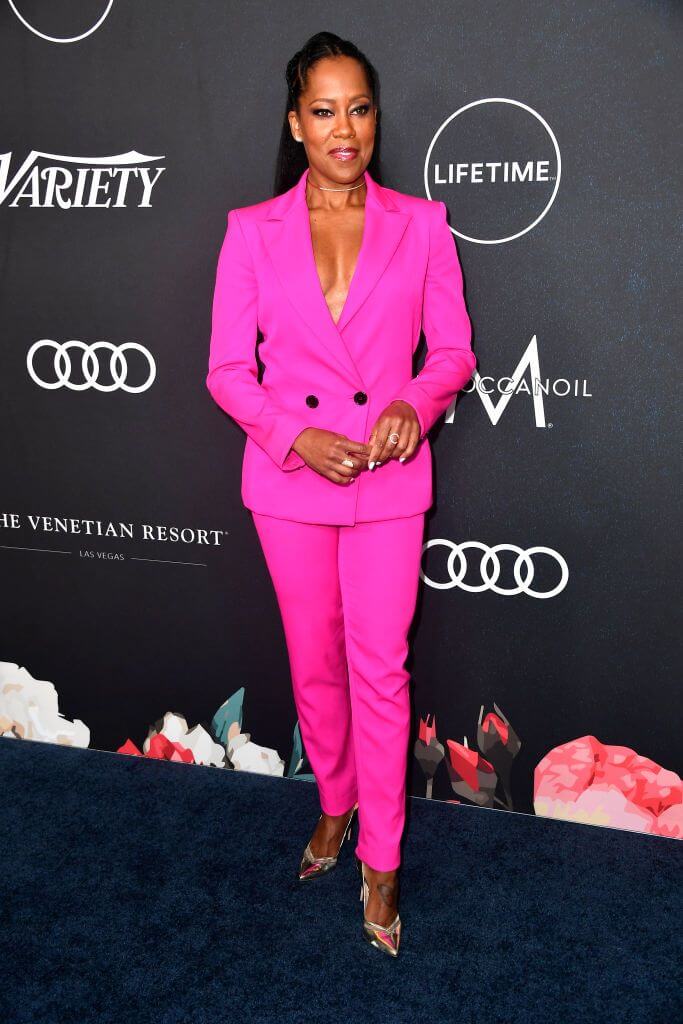 For the after party of the 2019 Emmy Awards, King slipped into an emerald green power suit, pulling off the monochrome look nicely. To balance things up, she wore black Mary Jane pumps and a loose ponytail as the cherry on top.
SIMPLY BEAUTIFUL

Even with the simplest outfits, Regina's beauty and elegance shines through. She is a living proof that sometimes you don't need many pieces to achieve that fashion "aha" moment. A simple dress, clean hairdo and just a few accessories will work the magic.
The LBD is a fashion staple that you can make a lot of sensational statements with including simple glam, which was what Regina went for. She styled her outfit with a pair of black heels, dropping earrings and a top knot.

Another beautiful thing about Regina's style is that it is very relatable. You can achieve her looks with pieces in your wardrobe. It's all about how well you combine them. Check out this chic and modern look in the picture below. King layered a belted dress with a turtleneck top. She elevated her combo with a headwrap and boots for an edgy touch.
HAIR AND BEAUTY

When it comes to hair, King has done it all. From braids to curls, bobs, fringe, updos, ponytails, shag, afro, chignon and the likes, she is the ultimate hair chameleon. If you love to switch up your hair every now and then, Regina is your ideal inspiration.
In terms of beauty, Regina keeps it clean and classy. She embraces warm tones that highlight her best facial features.

CONCLUSION

One thing is pertinent about Regina's style; great hair, stylish ensembles, pumps and a beautiful set of accessories. Nothing overpowers her, instead every fashion piece is combined carefully to make sure she's in the spotlight. That is a very important thing to consider when shopping or styling in general. Ensure that every thing you put on complements and flatters you in the best possible way.