Rising star, Letitia Wright, captured the hearts of many fans round the world after her stellar role as "Shuri" in the famous award-winning movie, Black Panther.
Her charming act was not the only thing that captivated many but also her sense of style. From on and off-screen moments to red carpet events and magazine shoots, this Bella is the definition of class and sophistication.

WHO IS LETITIA WRIGHT?
Letitia Wright is an actress who shares Guyanese and English nationalities and an advocate for mental health. She has also starred in several movies such as Top Boy, Coming Up, Chasing Shadows, Humans, Urban Hymn, Black Panther, Avengers: Infinity War and Avengers: Endgame.
Earlier this year, she received the "Rising Star Award" at the BAFTAs. She has also received a Primetime Emmy Award nomination for Outstanding Supporting Actress in a Limited Series or Movie. Recently, she became the face of British beauty brand, Bare Minerals.

Letitia's style is simple, funky, chic, refined and diversified that she can pull of the menswear and still rock a dress effortlessly.

PANTSUIT PRIDE
The award-winning actress is the master of pantsuit styling. Whether coloured or patterned, this fashionista knows how to work it sharp and stylishly.
A standout fashion moment for the Guyanese actress was at the Avengers Premiere. Letitia stepped out in a constellation-inspired purple, black and blue suit with a tulle black dress. This was such a "risk-taker" move but a showstopper on every level.
We cannot also pass up on the white sharp suit she sported at the BAFTA 2019 award ceremony. She was literally dressed to the nines. Wright paired her Stella McCartney pantsuit with mirrored silver pointed-toe pumps, matching silver purse and earrings. For her beauty look, she opted for smoky eyes adding an edgy accent to her look.
Take a cue from Letitia and experiment the sharp suit trend for the fall season.
PRINCESS SHURI
Just when you thought that Letitia would appear in her usual pantsuit style, she shows up and shows out in a feminine dress looking all glamorous.
At the Oscars 2018, Wright arrived on the red carpet in a champagne-coloured Dior Haute Couture dress with silver and blush-pink leaf appliqués embroidered on the dress. It was such a sultry and stunning silhouette on the actress.
Shuri was indeed a delight to watch in the award-winning film, Black Panther. One of the stand-out styles for the tech genius was the white lab dress she donned on in one of the scenes of the film. It was indeed a fashion upgrade for a lab coat and we love it!! Her braid hairstyle was the icing on the cupcake and flattered her overall look.

Another Princess moment for the star actress was during the World Premiere of Black Panther. Wright dazzled in a gorgeous gown by Bibhu Mohapatra. Everything about her look was "gla-mazing" and she pulled off the princess –style with a short hairstyle. Who says a princess has to wear her hair long always?! Pairing her dress with Norman Silverman diamond jewelry, she was indeed a beauty to behold!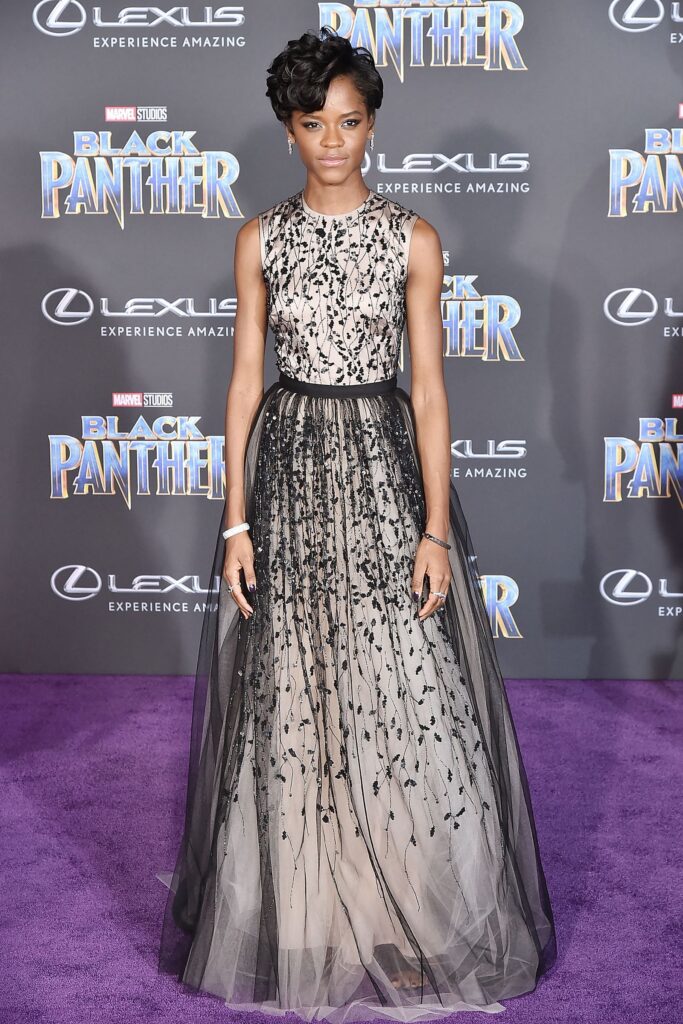 CHIC UPGRADE

When it comes to urban looks, Letita's style is always "next level-ish". With a fearless style element alongside her fun fashion complement, she is indeed a trendsetter.
On The Tonight Show Starring Jimmy Fallon in April, Letitia rocked a black lace dress from the Coach Fall 2018 collection. She elevated her outfit with edgy black booties and a fab pompadour hairstyle.
She also turned the "chic node" up at the New York Fashion Week in February. She paired a mesh tank with black satin pants and a leather bomber.
SHORT AND SASSY

It is no longer news that the 25-year old star loves to keep her hair short. From curls to straight, sleek and pompadour hairstyles, this damsel has mastered her hair art. With so many looks, she has exemplified sass and style with short hair.
If you are thinking of donning on a short style, Letitia Wright would be an amazing option to draw your inspiration from.
CONCLUSION

Apart from being fashionable, Letitia is particularly keen on beauty from the inside out. She's also big on breaking barriers that hinder women from having careers in science, technology, engineering and math sectors (STEM), which makes her all the more inspiring and a great role model. We look forward to more style moments from her as she scales greater heights. We love you Letitia!!