We have waited to share this story with you forever so we couldn't wait to tell you that the "royal baby" is here!!! The Duke and Duchess of Sussex, Prince Harry, and Meghan Markle have finally welcomed their baby, and he is a boy. Their son arrived early on Monday morning, May 6, 2019, weighing 7lbs. 3oz.
An official statement tells us that both mother and baby are in perfect health and the couple expresses their profound gratitude to every one of their well-wishers for their love and support. They are also grateful to all celebrating with them at this special period in their lives. In concluding, the statement said more details will be revealed to the general public as events unfold in the next few days.
Harry and Meghan's son is yet to be named but as it stands, he is the seventh in line to the exalted British Throne. He is also the eight grandchildren of the current British monarch, Queen Elizabeth II. The Duke of Sussex is the second son of the first in line to the throne, Prince Charles and his late wife, Princess Diana.
The Duke couldn't hold back his joy as he told the press that both mother and child were in perfect condition with a beaming smile on his face.
In his statement to the press, the latest royal dad said, "I'm very excited to announce that Meghan and myself had a baby boy early this morning, a very healthy boy. Mother and baby are doing incredibly well. It's been the most amazing experience I could ever possibly imagine. How any woman does what they do is beyond comprehension but we're both absolutely thrilled and so grateful to all the lovely support."
He added that they were thinking of what name to give the child when he was asked about his son's name. You will recall that the couple made a decision not to check the sex of the baby until the child was born. According to them, they wanted to enjoy the element of surprise.
According to him, his wife's labor was a bit overdue so they'd really not had much time on their hands to discuss a name. However, now that the baby is here, they can discuss the name issue in a more relaxed manner. The royal family was expecting their first child to be born in April but had to wait a little longer to have him born today. It was announced earlier today that the Duchess went into labor with her husband by her side all through.
The 34-year-old Duke and his 37-year-old wife decided it was in their best interest not to disclose their baby's due date or the location they had chosen to birth their son. They ensured that all through Markle's pregnancy they were discreet with all information regarding the child and its birth.
If Markle decides to submit an application and follow through with the necessary process then her son will attain dual citizenship status. This is because his father is British and his mother is from the United States, so by birth he is British-American.
The Duke and Duchess got married at the St. George's Church in Windsor Castle about a year ago in a ceremony that had several celebrities in attendance from both Britain and the United States. It could easily be termed as the wedding of the decade with the fanfare that followed. Last month the couple moved residences to the Frogmore Cottage from Kensington Palace. Their new residence is in close proximity to Windsor Castle where their wedding reception held in May 2019.
For several days prior to the birth of the royal newborn, journalists and well-wishers have kept watch not too far from the residence of the Duke and Duchess of Sussex. Already the couple had announced through Kensington Palace that they will be breaking the status quo of taking photos with their baby after it was born, at least not for a few days.
It will be recalled that Meghan used to be a member of the cast of television series, Suits, before her wedding to the Prince. This is her second marriage as the first one, which ended in a divorce, didn't last too long. Throughout her pregnancy she was very active, attending several functions while looking amazingly beautiful at every single appearance.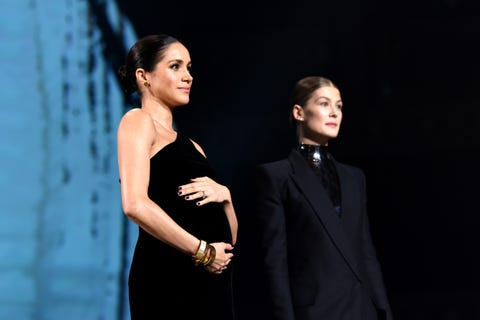 The Duchess sees herself as being bi-racial primarily because she was born to a white father and an Afro-American mother. We told you last month that her mother was already on her way to the UK to be with her daughter before the baby's arrival. This was after Markle's second baby shower, the first was organized by Serena Williams in New York in February.
See also: