Valentine's day is just in a few days and the search is on for the perfect outfit. Even though, as far as colors go, we already have a direction in terms of the classic red theme. But if you're not one to go with the flow, there are other great options to consider too which will be highlighted in this article.
Love is in the air and the V-day is a perfect time to throw on something charming regardless of how you're celebrating it.
Scroll down to see different amazing ensembles to rock for the V-day and be inspired.
Florals
Floral outfits are wonderful pieces of highlighting one's feminity and a funky side. Channel your inner charm and go for dainty floral dresses which can come in different styles and designs.
Belted Blazer Dress
Get your chic vibes on for the V-Day with a belted blazer dress, silver heels or pumps and hoop earrings. It is also the perfect day to night look.
Sequined Top
Shimmer things up in a purple sequin top and be the center of attention. Pair it with a leather black mini skirt and heels for your date night or partying with friends.
Power Suit
There is nothing more sexy than a woman in a power suit. It exudes class, sophistication and a confident persona.
Fringy dress
Turn it up in a fringe trim fitted Cami dress for your night out with your partner. Introduce a glam element with metallic ankle strap heels and a heart clutch and you're up for memorable time and style.
Satin Jumpsuit
For a sheek and comfy look, pair a lavender leopard print satin jumpsuit with champagne satin heels and sparkly earrings. With a stylish hair style and subtle face beat, you're all set for your V-Day.
The Little Red Dress
Spice things up in a pretty red mini dress with a simple silhouette. If you're all about the shine, Beyonce's fit may be your ideal choice. Since you're going for a bold shade of red, balance up your outfit with neutral items in the accessory department.
Leather Jacket
If you're looking to add some edge to your V-Day look, throw on a classic leather moto jacket on your outfit. Complement with fashionable boots and stylish bag and you're ready to go. This is the perfect fit for a movie date or just a lunch date with friends.
Sweater Top
For a casual gear with a modern touch, combine a ladder stitch crop sweater with a mini leather skirt and ankle boots. Complete your look with a leopard print purse and crystal hoop earrings.
All Red
The Valentine's day (apart from Christmas) is the perfect time to rock your red pieces without reserve. Embrace your fiery fashionista vibes and step out in an all red ensemble.
Pink Dress
Girls' night out is going to be a massive hit in this 80's inspired pink dress. Pair with black tights and combat boots or strappy heels with a full glam face beat and you're style goals by a 100%.
Monochrome Glam
Monochrome pieces are also not left in the V-day style prospects. Yes, you can opt for something other than red like the lavender piece above and still look amazing.
Sequin Skirt
For a huge splash of the classic V-day theme color, pair your sequin skirt with a neutral tank top and a stylish trench coat. Level up with leather boots and simple accessories.
Color Block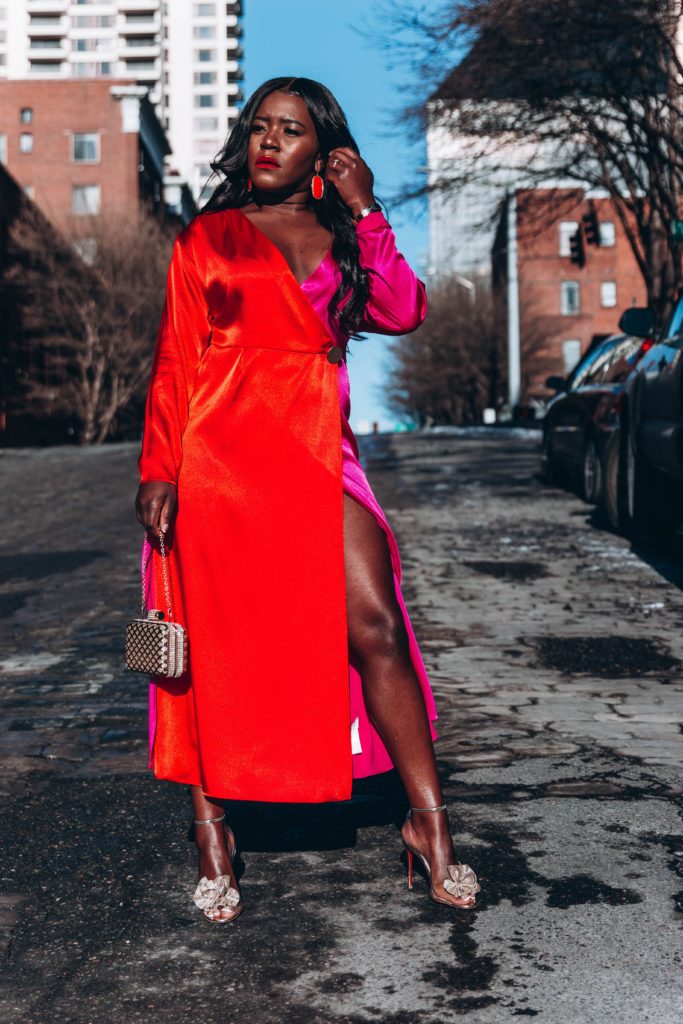 If your favorite color is pink but you also want to chime in with the classic red, then a colour-block dress is the perfect outfit for you. Keep it simple with the accessories so that you don't present a quirky look.
The LBD
The LBD is a classic staple fit for every season including the Valentine's day. Step out in your favorite LBD and add simple festive accents like a red lip or red pumps.
Casual Setup
If your V-Day is just a casual day for you, you can still make it special with a cool red leather jacket, heart themed shirt or red sneaks.
Street Style
For a street style inspired look, pair your fur jacket with a black inner piece and latex pants. Elevate your style with stylish eyewear, classic red purse and boots.
Lace
For your exquisite V-Day cocktail parties, a lace dress would be your go to style option for the event. Rev things up with golden strapy heels and stylish earrings.
CONCLUSION
With all the various styles and trends out there, ensure you stay true to your very own style. Go for pieces that you are comfortable in and BE YOUR AUTHENTIC SELF! Have a fabulous Valentine's Day ahead.